Richmond Top Workplaces Program Recognizes WCG for Second Year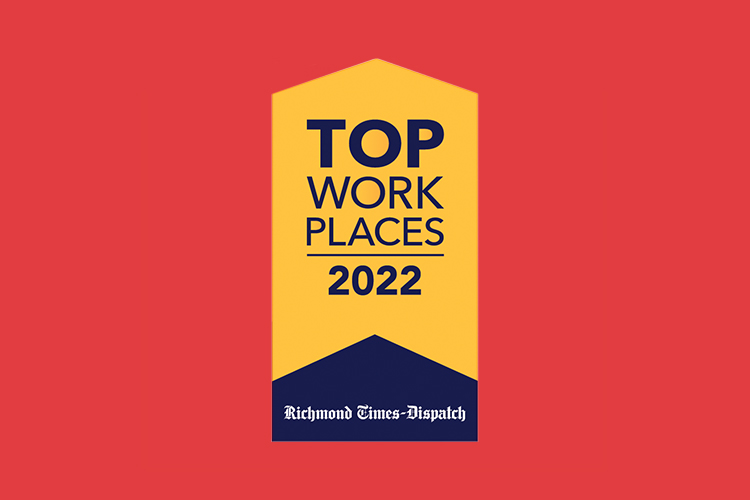 West Cary Group Honored with Top 20 Spot in Richmond Top Workplaces Program

We're thrilled to share that West Cary Group (WCG) was recognized as a Richmond Top Workplace winner for 2022! The announcement came during a special ceremony hosted by the Richmond Times-Dispatch and employee engagement technology partner Energage on May 26, 2022. This is the second consecutive Top Workplaces award for our agency. Last year, we placed number 23 in the small business category.
"To earn recognition as one of the best places to work in Greater Richmond is an honor. To improve upon our standing is even more gratifying," said Moses Foster, WCG President and CEO. "We fuel winning creative for our clients through constant optimization and refinement, so it's great when we can apply those same principles to our organization. This shows that we're staying true to our values of diversity, inclusion, and belonging, and we're cultivating a space where all our team members know their contributions matter – even during a period of explosive growth."
WCG has 94 employees, more than half of whom have been hired in the past year. Last month, our agency held a 15th anniversary event to celebrate our progress and evolution.
Recognition for Top Workplaces is based solely on employee feedback gathered by a third-party survey administered by Energage. The anonymous survey uniquely measures 15 culture drivers that are critical to the success of any organization. This year, WCG was one of only 87 area companies to be honored.
"Our team members span the country – from Ohio to New Jersey to our home state of Virginia," said WCG Human Resources Business Partner Krystal Baldwin. "Before our anniversary celebration last month when we transported everyone who could travel to Richmond, many of us had never met each other in person. So, I think it's amazing that we're able to build this strong bond and nurture a culture of belonging across the miles."
This year, we were awarded the number 15 spot.
When you feel your best, you're able to produce your best. Together, we're looking forward to furthering our story, delivering innovative strategies, and driving ROI for our clients.
– Dan Baker, WCG Chief Analytics Officer